organize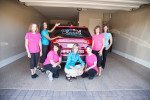 Business: Coach for New Organizers, Business: Public Speaking, Business: Space Organizing, Business: Storage/Warehouse, Residential: Attention Deficit Disorder, Residential: Children's Rooms, Residential: Closet Design/Installation, Residential: Closet Organizing, Residential: Estate Organizing, Residential: Garage/Attics/Basements, Residential: Garage/Estate Sales, Residential: Kitchens, Residential: Moving/Relocation, Residential: Other Rooms, Residential: Paper & Electronic, Residential: Paper Management, Residential: Photographs/Collections, Residential: Public Speaking, Residential: Seniors, Residential: Students, Residential: Time Management
Bridges is the founder and owner of Get Organized with Bridges + CO. She is the premier organizer in the valley with over six years of experience in the industry. You may recognize her as Channel 3 TV's organizing sweetheart. If you haven't viewed the segments yet you're missing out!
Not only is Bridges an excellent organizer, she is a phenomenal coach. She has created a team of seasoned organizers who understand that organizing is not a one-size-fits all. She teaches the importance of using the foundational methods of effective organizing with a combined customized approach to cater to the needs of the client. Clearing the clutter is only part of the process; leaving the client with the tools, resources, and support to maintain systems is the end goal that drives Bridge's passion.
As stated best by a recent client who would like to be known as the "Anonymous Crazy Lady"… "Without Bridges, we would have had to move or burn the place down!"
Bridges works to give her clients back the time to enjoy what they really love in life. She herself enjoys spending time with her boys and the great outdoors.
Decluttering, Downsizing, Organizing, Organizing Lessons, Paper Management, Residential Services, Specializing in Adult/Senior existing residences and transitions.
Effective Organizing, LLC recognizes that we are not a "one size fits all" society and is committed to developing customized organization plans to accomplish each client's unique goal(s) through consulting, design and implementation techniques created to harmonize with the client's personality and life style. We specialize in assisting mature clients with their unique organizational and transitioning needs.
Effective Organizing offers a menu of services from complete project planning and execution to a "do-it-yourself" Organization Plan and Instruction Guide to customized organizing lessons. Experienced, Affordable and Effective Solutions for: decluttering, downsizing, organizing, paper management, relocation coordination. Call me for a free 15 minute phone consultation to see how I can help you!
Debra is a member of the National Association of Professional Organizers (NAPO), NAPO Arizona and co-chairs the Arizona Association of Senior Relocation Specialists (AASRS) In addition to regular speaking engagements for the City of Peoria's community education program, Debra also served as NAPO AZ's Education Chair and Newsletter Chair.
ORGANIZERS FOR RESIDENTIAL, Residential: Arts & Crafts Rooms, Residential: Children's Rooms, Residential: Closet Design/Installation, Residential: Closet Organizing, Residential: Downsizing, Residential: Estate Organizing, Residential: Garage/Attics/Basements, Residential: Garage/Estate Sales, Residential: Kitchens, Residential: Moving/Relocation, Residential: Other Rooms, Residential: Seniors, Residential: Space Organizing, Residential: Space Planning, Residential: Students, Residential: Unpacking
One Day UNpacking & Settling IN Service
www.TheUNpackers.com are a group of Professional Organizers (National Association of Professional Organizers) who work as a team to unpack and organize your home completely, the day after the movers deliver your furniture and boxes.
ORGANIZATION includes:
* Kitchen thoughtfully organized for use and functionality
* Closets "colorized" and hung by sleeve or type
* Pantry/ butlers pantry organized by category
* Linen refolded to fit your new linen closet
* Office, files and products organized
* Bathrooms organized using reasonably priced containers
* Children's rooms and toys organized
* Beds made Lamps plugged in Clocks set