Business: Storage/Warehouse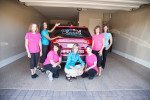 Business: Coach for New Organizers, Business: Public Speaking, Business: Space Organizing, Business: Storage/Warehouse, Residential: Attention Deficit Disorder, Residential: Children's Rooms, Residential: Closet Design/Installation, Residential: Closet Organizing, Residential: Estate Organizing, Residential: Garage/Attics/Basements, Residential: Garage/Estate Sales, Residential: Kitchens, Residential: Moving/Relocation, Residential: Other Rooms, Residential: Paper & Electronic, Residential: Paper Management, Residential: Photographs/Collections, Residential: Public Speaking, Residential: Seniors, Residential: Students, Residential: Time Management
Bridges is the founder and owner of Get Organized with Bridges + CO. She is the premier organizer in the valley with over six years of experience in the industry. You may recognize her as Channel 3 TV's organizing sweetheart. If you haven't viewed the segments yet you're missing out!
Not only is Bridges an excellent organizer, she is a phenomenal coach. She has created a team of seasoned organizers who understand that organizing is not a one-size-fits all. She teaches the importance of using the foundational methods of effective organizing with a combined customized approach to cater to the needs of the client. Clearing the clutter is only part of the process; leaving the client with the tools, resources, and support to maintain systems is the end goal that drives Bridge's passion.
As stated best by a recent client who would like to be known as the "Anonymous Crazy Lady"… "Without Bridges, we would have had to move or burn the place down!"
Bridges works to give her clients back the time to enjoy what they really love in life. She herself enjoys spending time with her boys and the great outdoors.
Business: Office, Business: Paper Management, Business: Space Organizing, Business: Storage/Warehouse, Residential: Closet Organizing, Residential: Downsizing, Residential: Garage/Attics/Basements, Residential: Kitchens, Residential: Moving/Relocation, Residential: Other Rooms, Residential: Paper Management, Residential: Photographs/Collections, Residential: Seniors, Residential: Space Organizing, Residential: Unpacking
Fearless and nonjudgmental organizing
If you have it but don;t love it, want it, use it or need it; If you need it but can't find it, or have way too much of it, operators are standing by, waiting to take your call.